Posted on
By Colin Bouwer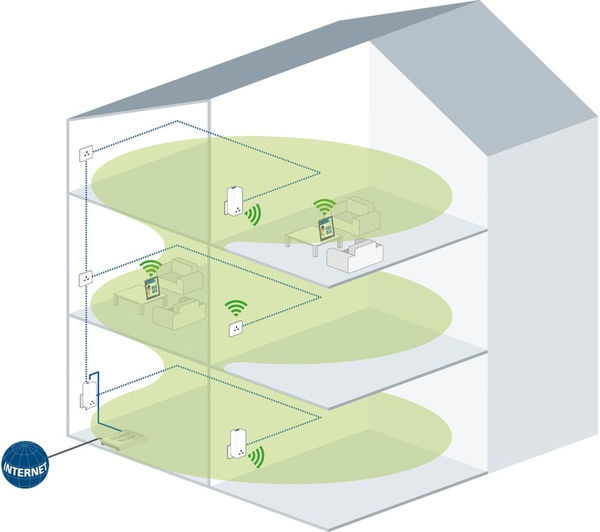 Most people with Wi-Fi devices have a preference for a Wi-Fi connection, but this is not always optimal. As Wi-Fi signals become weaker the farther you are from the router, the layout of your house and the building materials used can cause problems causing the connection to be broken. If you have had enough of your usually unreliable signal, then Powerline adapters can offer a solution.
What is Powerline?
Your home is equipped with power lines, but these can do much more than just ensure that your lights stay on. An alternative to routing Ethernet cables through your walls is the use of Powerline adapters. These use the electricity cables in your home for transferring network signals between rooms that would otherwise be out of range. You only need a free outlet.
Powerline adapters support several frequencies, but will not affect your electricity network and the power supply to your equipment. Moreover, with Powerline connections, there is less data loss and you benefit from higher speeds than standard Wi-Fi, regardless of how large the distance is between your computer and your router or how many obstacles in the form of walls or devices there are between the two are located.
For a Powerline connection, you need a router, Ethernet cables and at least two Powerline adapters: one for the router and one for each device that you want to connect. Connect the first adapter to a power outlet near the router and connect the router with an Ethernet cable. Then use a different Ethernet cable in another room to connect the other Powerline adapter to your media player, computer, or another Wi-Fi device. As soon as you connect the second adapter to a power outlet, the two adapters will send network signals to each other via the electricity cables that run from one room to the other, creating an internet connection in a place where the router would otherwise not reach.
Who is Powerline intended for?

Powerline adapters are suitable for anyone who wants to expand their network coverage. They also offer the fastest possible connection, for example for game consoles or streaming media players, and offer connectivity for older devices where Wi-Fi connectivity is not built in. They are particularly effective in larger rooms or old buildings with thick or concrete walls or metal objects and other things that hinder the Wi-Fi signal. In Europe, many buildings are more than a hundred years old and are made of materials that obstruct the signal and that is why Powerline is a common solution here. However, Powerline is not a good solution for homes with poor cabling or a lack of power outlets.
Powerline as an additional solution

Powerline is not only intended for homes with poor Wi-Fi coverage. Because it forms a bridge between your router and Wi-Fi devices, a Powerline system can be part of a network, even if a Wi-Fi hub is already being used. Powerline supports constant speeds, increases the range of data sent to the farthest corners of your home and can be used with a range extender for an even better signal within a further functioning network. Some models have multiple Ethernet ports, making them ideal for connecting multiple devices in the same room.
Tips with Powerline
Choose an adapter with the highest data transfer rates that you can afford, especially if you want to use it for streaming or gaming. The higher the number of megabits per second (Mbps), the higher the speed from which you benefit. The ideal choice is the models that support 500 to 600 Mbps.
Most Powerline adapters do not work if they are connected to an extension cord or voltage protector. For the best performance, connect the adapter directly to a wall outlet. A basic model may be somewhat larger and may block other sockets when connected. Therefore, look for a model with an integrated electrical socket, so that you can also connect another electrical device. If the sockets are low to the floor, purchase an adapter with the Ethernet ports on top so that you can connect and disconnect cable more easily. Unplug chargers for mobile devices from the wall outlet for heavy downloads or streams via the network. Chargers can cause interference on your electricity cables.