Posted on
By Colin Bouwer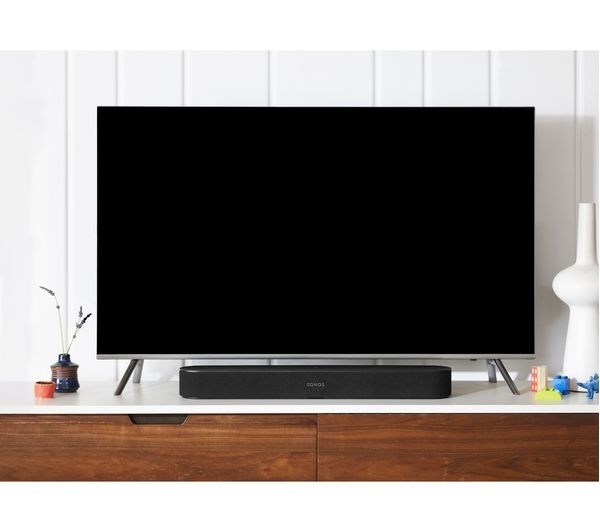 Sonos has released a new product: the Sonos Beam. This soundbar is considerably smaller than the Playbase and the Playbar, the other sound bars from Sonos.
First impression

Just like other Sonos products, the Beam comes in a handy box. The soundbar is packed in a cover and the cables are neatly built into a cardboard package. I find a handy package myself. When you take the Beam out of the box, you soon notice that the bar is fairly light. With the speakers that run all around and the round corners, the Beam looks sleek and compact.
Installation

Installing the Beam is done in no time. I installed the soundbar in my bedroom. The TV in my living room is old and does not have an optical or HDMI ARC connection. I advise you to check this before you purchase a soundbar. After I connected the soundbar to my TV, I followed the steps in the Sonos app to further complete the installation. It is important to have a properly working WiFi connection during the installation.
The app

The app is simple and well-arranged. You adjust the volume or pause your series or music. In the app, you see 2 icons: a moon and a conversation cloud. When you click on the moon, the night mode function starts. The volume goes down and the bass is less present. If you click on the cloud, the speech enhancement function starts. Conversations are placed in the foreground and come into their own better.
Sound

The sound fills the space. Conversations are clearly audible and sound effects emerge. I watched a piece of the Luke Cage action series. The sound with the effects really gives you a cinema feeling and speech scenes seem to take place in your bedroom. After this, I played various music tracks via Spotify. Songs with solo singing came out best I thought. The words are very clearly audible.
Connectivity

The nice thing about the HDMI ARC cable is that you only need 1 cable for image and sound and only use 1 remote control. Increase or decrease volume and pause is not required via the app. Do you already own Sonos speakers? Then connect it wirelessly to the Beam for a surround sound.
Conclusion

The Sonos Beam has a compact size, but that does not affect the performance. The sound remains spatial and both vocals and speech and sound effects do their best. Installation and operation via the app are easy. Because of the size, the soundbar is suitable for a small to medium-sized space. Do you want to place it in the living room and get even more out of the sound? Then you will have to add rear speakers and possibly a Sub to the sound setup.